Russian fighter jets have continued to carry out intense air raids in Syria in support of forces loyal to Bashar al-Assad after Moscow said it had begun withdrawing its forces from the country.
Syrian government forces on Tuesday advanced towards the historic city of Palmyra under "heavy Russian air cover", according to Al-Manar – a television station belonging to Hezbollah, which is fighting alongside the Syrian president's regime.
The reports of Russian air involvement follow Monday's surprise Kremlin announcement about troop withdrawal from Syria.
Palmyra was seized last summer by Islamic State, which destroyed many of the city's monumental ruins. The renewed offensive in the area came as Russian warplanes began leaving Syria following a six-month campaign that was crucial in halting the momentum of opposition fighters and cementing Assad's rule in the country's western provinces.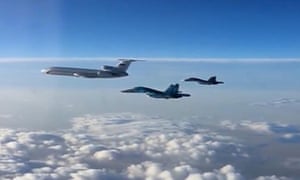 Russia's defence ministry said a first group of planes had taken off for home from the Hmeymim airbase near Latakia. In a series of tweets on Tuesday morning, it said aircraft would be relocated from the airbase to their home bases in Russia.
State television showed footage of soldiers loading an Ilyushin-76 transport plane with equipment to be returned to Russia. An unspecified number of Su-34 fighter jets were among the first group to set off for the long-distance flight back.
"Personnel are loading equipment, logistics items and inventory into transport aviation aircraft," the defence ministry wrote, adding that Shoigu had ordered the "main part" of the contingent in Syria to be redeployed.
On Tuesday afternoon, the first planes from Latakia landed at an airbase near Voronezh, where they were greeted by families and friends. Returning pilots were tossed in the air by celebrating crowds of comrades, with television crews on hand to capture the scenes and relay it to Russian homes as a sign of the mission's success.
Related: Russia's military action in Syria – timeline
"We will carry out any command of our commander-in-chief at any point on the planet," said an unnamed pilot interviewed on his return.
The announcement on Monday night by the Kremlin that it would withdraw the majority of its forces caught many analysts by surprise. It gave renewed impetus to peace talks that began in earnest this week in Geneva, and which are aimed at finding a political solution to a conflict that has lasted five years and killed close to half a million people.
Moscow's sudden decision, taken after a meeting between Vladimir Putin and his foreign and defence ministers, highlighted its leverage over the peace negotiations amid the absence of options for western powers.
While state television covered the withdrawal with fanfare, the deputy defence minister, Nikolai Pankov, suggested the bombing campaign was far from over. At a ceremony to mark the withdrawal at the Hmeymim airbase, he said the Russian planes remaining in Syria would continue to carry out missions.
The Syrian government sought to downplay the significance of the Russian withdrawal, saying it had been agreed through a mutual understanding between Assad and the Russian president, and that Russia would continue to back the regime's army.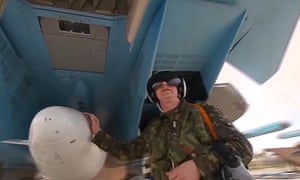 Still, opposition negotiators, the UN special envoy for Syria and western officials all welcomed Russia's announcement, hoping it would spur progress in the deadlocked peace talks and relieve some of the pressure on the rebels, who have endured thousands of Russian airstrikes since the campaign began last autumn.
Related: Russia's exit from Syria a move military analysts never saw coming
The US secretary of state John Kerry will travel to Russia next week for what he described as possibly the best opportunity in years to end the civil war in Syria after Moscow's announcement of a partial withdrawal of its forces from the country. Kerry told reporters on Tuesday that he would meet Putin and Russian foreign minister Sergei Lavrov in Moscow.
Salem al-Meslat, the opposition high negotiations committee's chief spokesman, said: "We do not know if it is a full withdrawal or a partial withdrawal. If it is a full withdrawal it will make this political process in Geneva much more successful."
Asked if the Russians must leave the country altogether, he said that would be preferable, but added "the important thing is they do not target civilians and there are no more military operations in Syria".
He added that Russian troops could remain here and there, including at their existing bases. "We can be their partners if they fight Islamic State and want to fight terrorism. Up until now they have been bombing civilians," he said.
He suggested Putin was now clearly the dominant player in Syria. "The Syrian government delegation has come here to Geneva to waste time. For them they say Assad is a red line, but we set no preconditions. But the decision-maker now in Syria is Russia, not the regime. If they are really putting pressure on the government, then we can make quick progress," he said.
"But we want another good brave decision from Putin and that is to be on the side of the Syrian people. We know there have been big efforts from the [United] States and the Europeans that really made Putin take this decision. We have waited a very long time, and we can wait another day to really judge the decision of Putin."